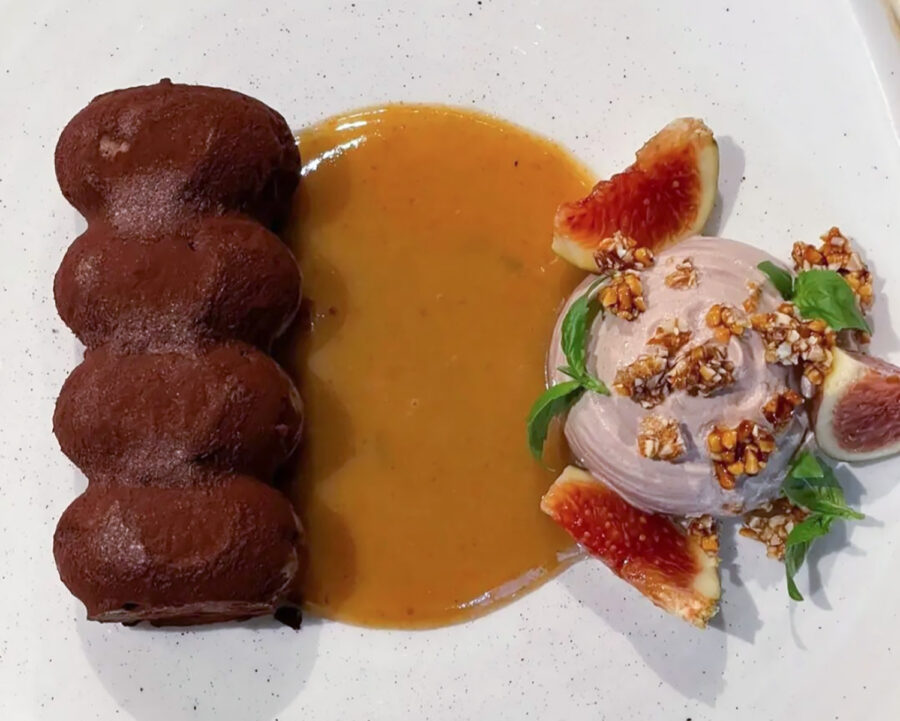 Ingredients
For the nougat foam:
4 eggs

150 g granulated sugar

50 g of cocoa

300 g of cream cheese

a little vanilla extract

cocoa for dusting
For the nougat foam:
150 g of almond milk

30 g of almond liqueur

500 g cream 35%
For the fig-basil sauce:
200 g of sugar

300 g of water

150 g of fresh fig

50 g of fresh basil
Instructions
For the semifreddo:
Beat the egg whites with the sugar until it becomes a meringue. Beat the yolks with the cocoa, vanilla extract and cream cheese. Combine the two mixtures with marise. Add the cubed sycamore, place in molds and freeze for at least 12 hours.
For the nougat foam:
In the bowl of the thermomix, beat all the ingredients together at 70 degrees Celsius for 20 minutes until the ingredients are dissolved and homogenized. Pass the mixture through cheesecloth, and cool in the refrigerator. After the mixture has cooled, place it in the siphon and put 2 ampoules.
For the fig-basil sauce:
Boil all the ingredients together. Once the figs are soft, blend the mixture and pass it through a strainer.
Fitting:
To set up the dessert, sprinkle the semifreddo with cocoa, garnish the modolato foam with a caramelized nut of your choice and pieces of fresh fig.
We would like to thank the Domes Mirame, The Luxury Collection team for the recipe.
Executive Chef: Konstantinos Soueref
Executive Sous Chef: Savvas Karipoglou
Chef de partie: Dimitris Kiriakou
Commi chef de partie: Christian Amoretto