Limoncello cake by pastry chef Stelios Parliaros
PREPARATION TIME: 45'
PORTION: 1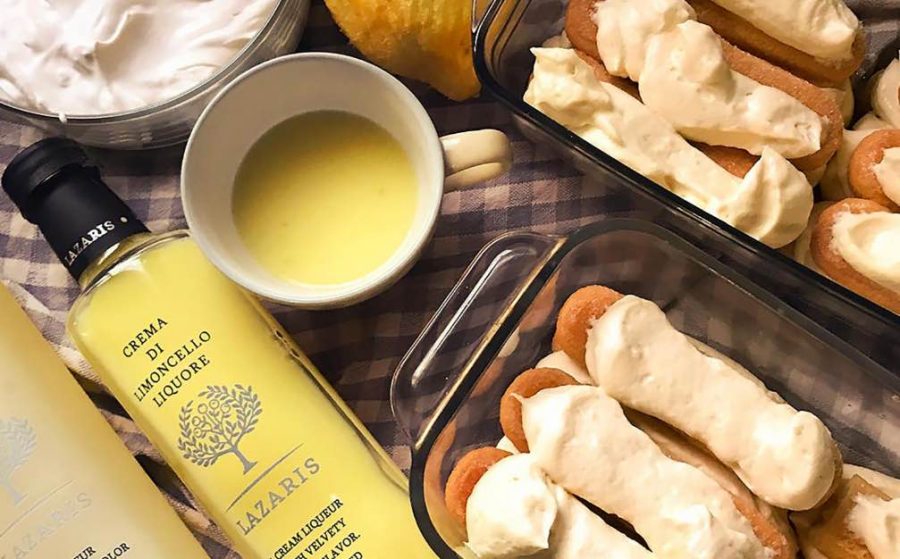 Introduction
An easy and delicious recipe for Limoncello cake by famous pastry chef Stelios Parliaros. Delightful cream flavoured with Lazaris Limoncello with savagiar for lemon lovers!
The recipe was made for the TV show "Sweet Alchemies Travel" – Episode 16: Corfu (4/05/19) on SKAI TV.
Video:
https://www.youtube.com/watch?v=xUGkirQJ4OU
Ingredients
1 pack Savoiardi (Italian ladyfingers)
500gr. heavy cream 36%
100gr. sugar
Ingredients
1 egg
3 egg yolks
40gr. corn flour
1 lemon for the lemon zest
100gr. heavy cream 36%
Method
Mix in a bowl the sugar with the corn flour and eggs. Before the milk starts boiling, pour 1/3 of the egg mixture and continuously stir. When is mixed well, add the egg mixture in the cream. Continue stirring. When the cream stiff peaks form and reaches the first boil, remove it from the heat and add lemon zest. Put mixture in a low long pan and place a food plastic wrap on the top and place it in a fridge to cool. Beat 100gr. cream until it begins to thicken. Mix the lemon zest cream with the whipped cream and stir until fluffy. Add thicken cream and stir. In a bowl, pour 50gr. Lazaris Limoncello liqueur and milk and dip savoiardi for a few seconds. In a pan, lay one layer of half savoiardi and then the cream. Lay one layer of the rest savoiardi and finish with lemon's zest decoration.