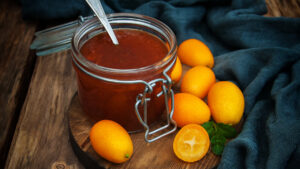 Habits and sweet memories of our childhood. Spoon Sweets appeared whenever visitors came at home as a welcoming treat. Alongside the serving, in a small vintage crystal glass plate with ornate designs with a little silver spoon. Always served with a glass of fresh cold water to accompany it on the silver serving tray.
Spoon sweets were born from the need to maintain fruits and other wrists (even vegetables) of the crop. Over the years these treats became a key element of Greek culinary culture. Spoon sweets are made all over Greece. Kumquat spoon sweet is the domain of Corfu Island – known for its production of these tiny, delightful fruits. The special, acidic and – at the same time – bittersweet taste of the fruit creates a delicious contrast with the sugar syrup. Sugar helps the proper preservation of spoon sweets, and its ratio must be the right one for their quality and texture.
Compared with other kinds of sweets, spoon sweets are a healthy option when we want something sweet to eat. Obviously, sugar is not healthy; but spoon sweets don't contain any butter and eggs, they have a low caloric value and do not burden health with cholesterol and toxins. Nutrition studies have shown that spoon sweets retain high amounts of vitamins, fiber and fruit antioxidants, proving once again the importance and benefits of the Mediterranean diet. It is suggested by nutrition experts for a well-balanced diet. Also, it's a top choice during the period of fasting.
In every part of Greece, fruits and wrists of our temperate land are transformed into unique spoon sweets. In our island, our history has provided the miraculous fruit of kumquat. A fruit with many nutrients, rich aromas and beloved, distinctive flavor. Traditionally, kumquat spoon sweet perfectly accompanies a cup of Greek coffee or tea. In modern diet, it tastily and healthily enriches a yogurt meal, gives color and flavor in green salads and it can be uniquely combined with cheese and in cold plates.
Old times have gone by and old habits are diversified. However, in recent years, trends in modern nutrition and gastronomy show a return to the roots, pure materials and products of the Greek land. Yet again, our culinary heritage has proved a treasure of flavors.